CrossDNA Overview: Helps You Improve Your Athletic Performance
Focused on DNA testing for diet and fitness, Spanish firm CrossDNA delivers an extensive panel covering more than 90 factors including muscle type and aerobic capacity. Armed with this detailed information, you can make informed decisions about preventive healthcare and identify exercise plans that suit your individual needs.
If you're an athlete looking to improve or someone starting a new fitness regimen, CrossDNA is an option worth weighing. The report is especially useful if you've had difficulty achieving or maintaining fitness goals before. The DNA-driven data help you understand how your physical and mental traits influence your athletic performance, enabling you to fine-tune your training approach.
In this review, we'll delve into CrossDNA's features, pricing, and customer support, equipping you with the necessary knowledge to assess whether CrossDNA is the right choice to elevate your fitness journey.
Taking the Test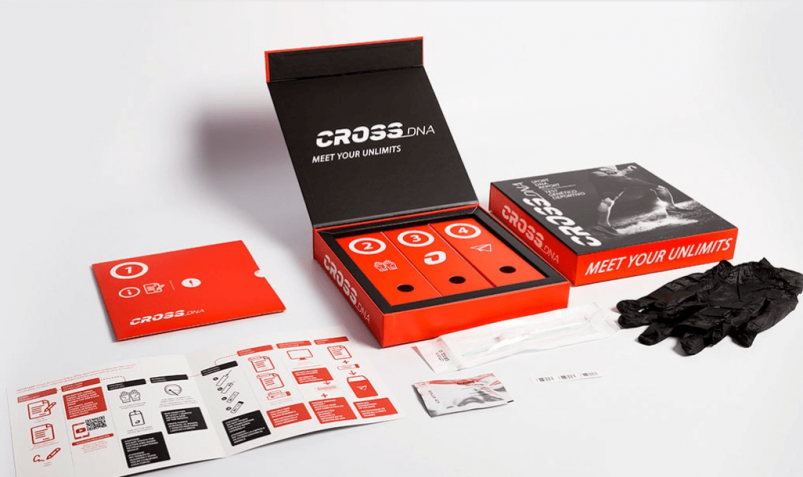 Once you've placed an order with CrossDNA, you'll get a box delivered to you. It contains registration details, gloves, a cheek swab, return packaging, and image-based instructions. The steps are straightforward: register your kit on their website, swab your cheek, mail back the sample, and then wait for an email to notify you when your results are ready. The entire process might span a few months from the moment you begin to the end.
One more thing: don't eat or drink for up to an hour before taking the test!
5 Standout Features of CrossDNA
Results From An Athlete's Perspective
Athletes have more specific needs than most people. They work hard to achieve peak performance – in the gym and in the kitchen. CrossDNA claims that its results are presented with a focus on athletes' perspectives, values, and priorities.
Personalized Nutrition Information
Is your diet optimized to best suit your genetic makeup? Is it tailored to help you absorb essential micronutrients for peak performance? The CrossDNA test will tell you about your genetic predispositions to individual dietary needs in several key areas.
Discover Your Unique Fitness Genes
Do you know your predominant muscle type? Do your genes predict that you have a large lung capacity? What do you know about the benefits and risks of your cardiovascular health? The CrossDNA report will answer all these questions and more.
Information About How You React to the Environment
Do you have a stronger reaction to pollution or sunlight than the average person? The environmental section of CrossDNA's results provides this information to guide your training, so you can perform your best by understanding how your surroundings are likely to affect you.
Multilingual Website
Whether you're Spanish, English, French, Dutch, or Italian, it's easy to toggle between languages on CrossDNA's website. But beware that the translations are not always spot on, and the English translations (in particular) can be a bit confusing.
Upload Your Raw Data from Another DNA Test
CrossDNA only has one product: The Advanced Sport Genetic Test. However, you are able to order the same report by uploading raw data that you've previously received from having your DNA tested by another company. This could save you about 40% off the list price, not to mention the time it would take to submit and analyze your sample.
Currently, CrossDNA accepts raw data uploads from:
Discover Your Fitness Potential (If You Can Decode the Results)
In this case, I'll confess that I didn't personally take the test. I had to rely on the website's information, which hadn't been entirely translated into English. For example, this sample results image – while no doubt visually appealing and informative for Spanish speakers – left me with some unanswered questions: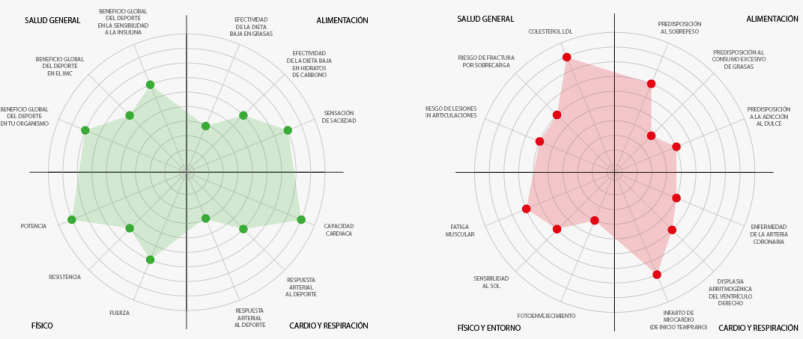 A quick Spanish lesson, courtesy of Google Translate, helped me determine that a higher placement on either chart shows that someone is genetically more likely to experience that quality, whether good or bad.
On the left in green, you'll discover your positive health potential in terms of things like resistance and strength. The sample shows that the individual has a high heart capacity (bottom right quadrant).
On the right in red, you'll uncover your negative health potential in terms of things like muscle fatigue and sensitivity to the sun. The sample shows the individual is likely to have high LDL cholesterol levels (top left quadrant).
This is all well and good, but it still leaves me wondering: Does the report mention which genes are tested? Do you receive a customized diet plan? Maybe yes, maybe no. The point is that these questions could easily have been answered by including a complete sample report on the website (like many competitors do).
It's not only the health results that are vague. Although it might be fun to discover how well your ancestral country has done in past Olympics, by the company's own admission, this gimmicky feature isn't accurate: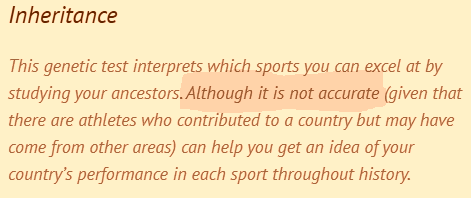 It Costs Quite a Few Euros
One thing that CrossDNA is clear about is the price. There is only one test, one price, and no other services. That said, you can save a significant percentage off of the list price if you choose to upload raw DNA from a number of other vendors (MyHeritage, AncestryDNA, FamilyTreeDNA, etc.)
Yes, the price is high compared to similar competitor tests. And in the absence of clearer information about the results you receive, I can't be confident that it's worth the cost. However, if you are someone who is serious about achieving your full fitness potential, the insight you receive could help inform exercise and diet regimens.
You can only pay in euros via PayPal, which is pretty ubiquitous but could be inconvenient for some customers.
Contact Form Not Working, but Rapid Email Replies
At the time of writing this review, the live chat option was not available and the online contact form was not working.
Therefore, I chose to contact the company via the provided email address. Impressively, I got a reply in about three hours, which was faster than expected. Regrettably, the representative's response didn't offer further help in understanding the sample results. Intriguingly, the agent proposed a complimentary 24Genetics ancestry test as an incentive for ordering the CrossDNA test within the following two days.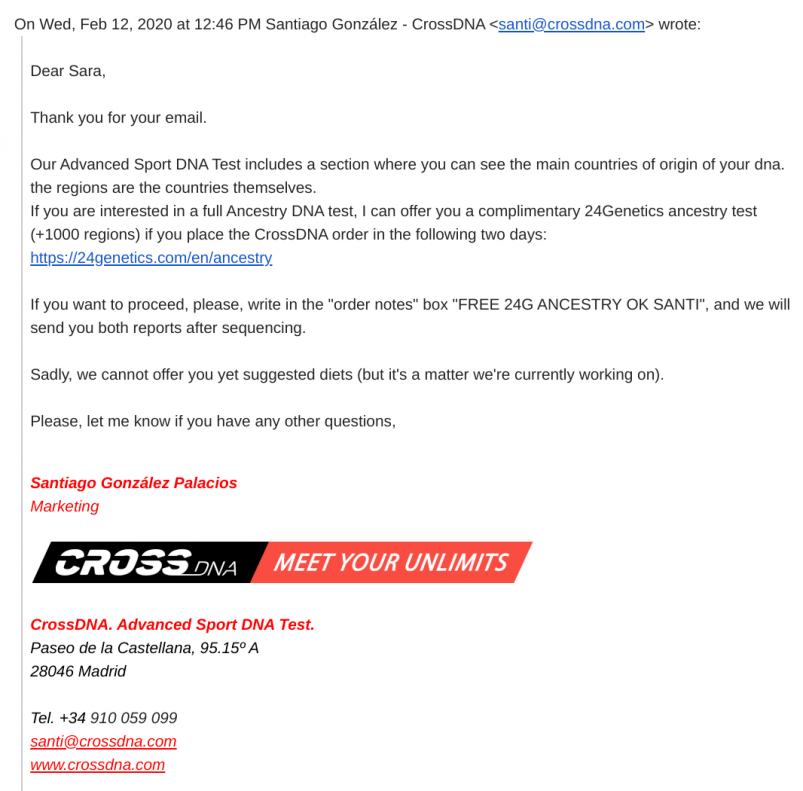 Suitable for Spanish-Speaking Athletes With Deep Pockets
You can probably guess what I'm going to say in summary. This company's website works best for Spanish speakers, its DNA test is tailored toward athleticism, and the price is quite high. Therefore, it's suitable for Spanish-speaking athletes with deep pockets.
The ancestry information is vague and confusing, and you don't get genetic risk reports or congenital condition carrier status reports, which is why I regard this as a diet and fitness test rather than a health test.
But there's one last piece of information that could possibly inform your thinking:
The customer service representative's offer of a free ancestry test from another company got me thinking, I determined that CrossDNA and 24Genetics have exactly the same postal addresses, so it seems they're one and the same company. Put simply, you might be better off going straight to 24Genetics to learn more about the test(s) and maybe even place your order there