Screen Your Sexual Health Anytime, Anywhere
Since 2014, MyLab Box has become one of the leading providers for at-home STD kits, as well as other health and wellness tests. Their main goal is to make routine sexual health screening more private, accessible, and of course, much less expensive.
With customized STD tests, free follow-up support, and FDA-approved tests, MyLab Box sounds like the ideal choice for at-home STD screening. But is it?
Are the results accurate? Does MyLab Box really deliver the privacy it promises? Do you receive high-quality customer support? Are the STD kits even worth your money?
Well, I set out to answer those questions for you. In this review, you can find everything you need to know about MyLab Box, from the different STD tests available and how they work, to interpreting your results and the quality of customer support.
Check Your Sexual Health With MyLab Box

Huge Saving with the STD Uber Box!
Save
43%
on the Price of Individual Test Kits
Save

43%
on the cost of individual STD tests with the Uber Box. The panel tests for
8 common STDs for just $269,
with
FREE shipping
included! Ideal for taking control of your sexual health without visiting the doctor.
18 STD Tests – Too Much Choice?
With MyLab Box, you really are spoilt for choice. There are 18 different tests to choose from, which includes both bundles and individual tests.
While it's great to have so many different kits available, if you don't have a specific concern or haven't tested before, it can be quite overwhelming finding the right one. Here's the lowdown of the different tests to help you decide.
Safe Box
MyLab Box's Safe Box tests for five common STDs. They areChlamydia, HIV Type I and II, Gonorrhea, and Trichomoniasis. It's one of the cheaper bundles available and a good option if you only want to screen for the highest risk factors.
Uber Box
The Uber Box is MyLab Box's most popular kit with a mid-range price. It's an eight-panel STD test that screens for Herpes Simplex Type II, HIV Type I and II, Hepatitis C, Syphilis, Chlamydia, Gonorrhea, and Trichomoniasis. It's available in both a female and male test, which have different sample methods.
Total Box
Want the full works? The Total Box tests for nearly every common STD you can think of, so it's the most comprehensive one available. That means it does come at a price though, as it's quite expensive. It's a 14-panel kit that tests for Gonorrhea (genital, throat, and rectal), Chlamydia (genital, throat, and rectal), Mycoplasma genitalium, HIV Type I and II, Hepatitis C, Herpes Type II, Syphilis, Trichomoniasis, and HPV.
Unfortunately, it doesn't test for Hepatitis A or B, or Herpes Type I, so it doesn't include everything. That said, females do get the HPV test included, which you don't see very often with at-home STD tests.
PrEP Box
The PrEP Box screens for pre-exposure prophylaxis (PrEP), which helps you prevent an HIV infection while taking PrEP medication. It tests for HIV, Hepatitis B and C, Syphilis, Chlamydia (rectal and genital), Gonorrhea (rectal, oral, and genital), Creatine, and pregnancy. It's delivered to your door every three months to help you keep track of your sexual health. It's the only kit with a subscription-style option.
V-Box
The V-Box is exclusively for females. It tests for STDs that can cause abnormal vaginal discharge, including vaginal yeast infections, bacterial vaginal infections, Chlamydia, Gonorrhea, and Trichomoniasis.
Love Box – Couples' Kit
Now this is something I've not seen before. The Love Box – Couples' Kit is an eight-panel test designed for couples. It includes two Uber Boxes of your choice, with a 10% cost saving. It screens for the same STDs as the Uber Box. You can even buy a Gift Card for Partners if you want to encourage your other half to screen themselves.
Boomer Box
The Boomer Box screens for the most high-risk STDs in senior adults. These are Chlamydia, Gonorrhea, HIV Type I and II, and Hepatitis C. It doesn't say what age range this is for, but if you consider yourself an older adult and don't want to waste your money on other unsuitable kits, it's a good choice.
HPV
MyLab Box has two types of HPV kits. The first is Cervical Cancer Screening using HPV, and the other is an HPV Women 30+ test. Which one you choose depends on whether you just want to know if you have HPV or if you want to find out your cervical cancer risk.
Chlamydia + Gonorrhea
This is the only two-panel bundle test that MyLab Box offers. It also has a Chlamydia + Gonorrhea 3-Site test which detects infections in the mouth and genital areas.
Individual Tests
MyLab Box offers a variety of individual tests for those with only one concern. These include Syphilis, Hepatitis B and C, Mycoplasma Genitalium, Trich, Genital Herpes, and HIV. But Gardnerella and Ureaplasma aren't on the list, and they're not part of the bundle tests either.
Choose Your Test With MyLab Box Today!
Discreet Packaging and Free Two-Way Delivery
Once you've chosen the right STD kit, it's delivered straight to your home in the mail in discreet, plain packaging. Neither the business name MyLab Box or the product name of the kit you've ordered are shown on the box, so nobody knows what you've purchased or where from.
Shipping is express and free, with boxes usually arriving within two business days. You can only get the test if you live in the US, though. If you're anywhere else, this STD testing company isn't for you.
Your box comes with all the kit needed to take your samples. Remember, these are different depending on which test you've ordered. Some kits require a urine, blood, or swab sample – or sometimes all three.
If you've ordered one of the male-specific kits and it requires a swab, don't panic when the instructions show you how to take a vaginal swab. It's still the right kit, but for some reason, MyLab Box hasn't amended the instructions for males. It's not very clear that you need to take a rectal and cheek swab, which is annoying.
Alongside your sample collectors, your kit comes with fully detailed instructions, a unique ID number to register your kit, and a returns envelope.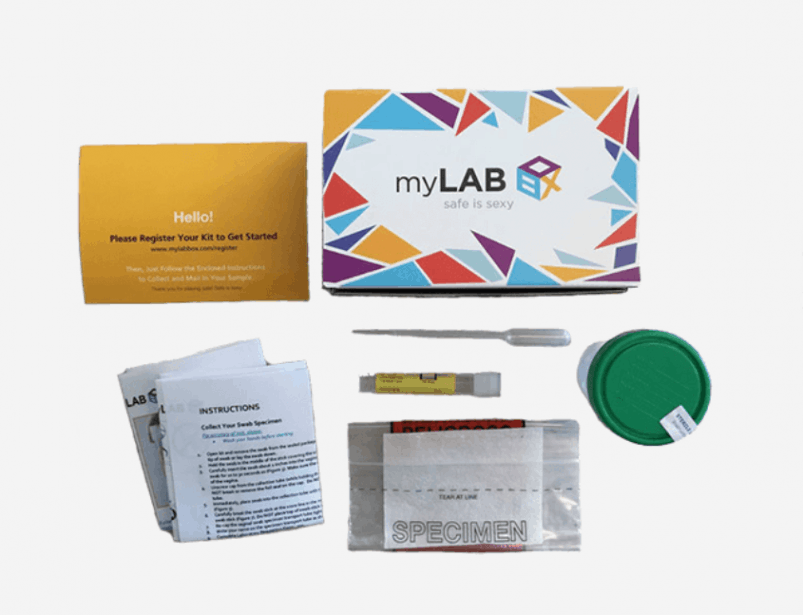 All of the collection methods are quite straightforward with easy instructions, but the blood sample is a little fiddly. It can be difficult to fill the circles with the required amount of blood, so make sure you prick your finger in the right place to get the sample needed.
The sample process is completely pain-free and only takes a maximum of 15 minutes if you need to provide all three samples. One sample only takes about five minutes.
You need to register your kit online using the unique ID number, too. Make sure you do this before you send it back. This means the laboratory can identify which test belongs to you so your results can be put on the online dashboard once complete. It only takes a few minutes. Once you've done that, just return your kit in the prepaid envelope.
5 Standout Features of MyLab Box
1. Customized STD Kits
MyLab Box has a great choice of STD kits, which includes both bundles and individual tests. This means you don't need to pay for an expensive all-in-one kit if you're only worried about one STD type.
The thing that really makes it stand out, though, is the customized tests. There are couples kits, male and female-specific tests, as well as a kit for older adults and HPV or cervical cancer screening. It makes it easy to find one that really suits your needs – and even the needs of your partner.
Choose Your MyLab Box Kit Today!
2. Free Follow-Up Support
If you get a positive result, MyLab Box offers free follow-up support with a qualified physician within 24-72 hours. They'll talk you through your results, offer advice on what to do next, and in some cases, they can even prescribe treatment for you and send it to your local pharmacy immediately. You're also entitled to a complimentary phone call with an STD counselor, should you need it.
3. Discreet and Anonymous
MyLab Box's packaging is truly discreet. Your kit arrives in plain packaging, with no return address, business name, or logo. The returns label even states the 'Fulfilment Center' for complete privacy.
Only you have access to your results on the online dashboard. And since your kit comes with a registration ID, when it reaches the lab, that's all that's used to identify your kit. Not your name, address, or anything else.
Get A Discreet MyLab Box Kit Today!
4. Certified Results
Your test is 100% certified, which means your results are truly accurate. Tests are all FDA-approved or certified by a laboratory official. This also means that you can print your results and take them to your physician if needed to get treatment.
Choose An STD Test Kit You Can Trust With MyLab Box!
5. Take AT-Home Testing Further
MyLab Box is well-known for its variety of at-home STD kits. But it offers some other health and wellness kits, too, such as gluten sensitivity, heavy metals, vitamin D deficiency, anemia, drug tests, and more. There are also a choice of fertility tests for both women and men.
Certified, Private, But Not The Quickest…
All of MyLab Box's tests are FDA authorized, so you get the exact same level of accuracy as you would if you took the test from your doctor.
You get an email to notify you when your results are ready, which takes you to your online dashboard. Only you have access to this dashboard and HIPAA web security protocols make sure your results are secure.
It'd be even better if you could track your results to the lab, so you know where your test is and you're not left wondering whether it even arrived.
Results typically take 2-5 days from when your test arrives at the lab. That's not the quickest, especially when competitors like STDcheck.com can turn your results around in 24 hours. Still, you're not waiting too long.
The actual results themselves can be confusing if you don't know what the terms mean. STDs are reported as "non-reactive" (negative) or "reactive" (positive).
You can download a PDF version of your results and take these to your doctor for a prescription if needed. MyLab Box does offer a prescription service as part of its follow-up support, but this isn't guaranteed – it depends on what you've tested for and what treatment you need.
Your results are only active on your account for 60 days before expiring, so make sure you save them if you need to.
As part of the support service, you get a free phone call with a qualified physician if you test positive for anything. Unlike LetsGetChecked where a nurse calls you, with MyLab Box, you need to send a request to the support email and it can take a few days to get a reply before the physician calls you.
Choose Your MyLab Box Test Kit Today!
Bundle to Save Money, Or Pay the Expense
MyLab Box has loads of tests to choose from, and the best way to save dollars is to choose a bundle.
The individual tests make sense if you're just worried about one STD, but once you start adding two or more to your basket, it gets pretty expensive. And in comparison to other competitors like STDcheck.com, they're pricey even on their own.
The bundles, though, are very well priced, especially the Total Box. It's one of the most comprehensive kits I've seen, but interestingly, not the most expensive. And because there are so many different bundles on offer, you can find one for any budget, and one customized to you, too.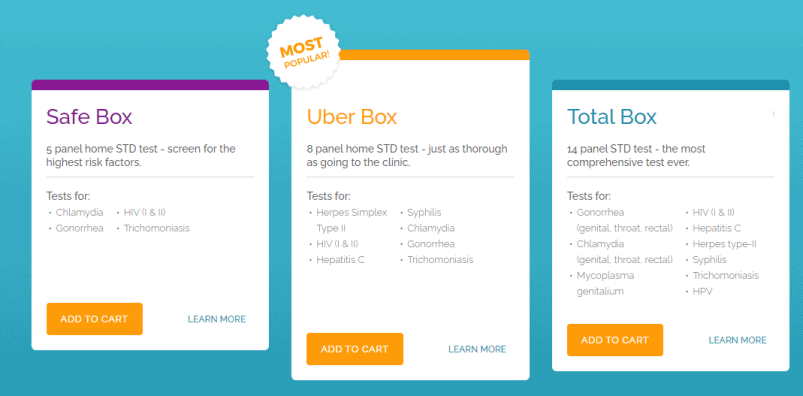 Remember that there's free shipping both ways, so you aren't hit with hidden costs. Any prescriptions (if you're allowed to get one), are also free, as is the follow-up support.
One thing I wish MyLab Box had is a wider subscription option like EverlyWell for those who like to routinely test their sexual health. This can help you save money as these subscriptions are usually discounted, too. But it's only available with the PrEP box.
MyLab Box accepts Visa, American Express, Mastercard, Discover, JCB, and Diners Club International. You can also pay with a MyLab Box gift card, an HSA or FSA card, or use a valid coupon code. It doesn't accept health insurance.
Choose a MyLab Box Bundle For Best Value!

Huge Saving with the STD Uber Box!
Save
43%
on the Price of Individual Test Kits
Save

43%
on the cost of individual STD tests with the Uber Box. The panel tests for
8 common STDs for just $269,
with
FREE shipping
included! Ideal for taking control of your sexual health without visiting the doctor.
Please Leave a Message…
MyLab Box has multiple support channels, which includes a phone number, email, and live chat service. You can also reach them via social media.
While the live chat is a great feature to have, there's never been any support agents available any time I've used it. I was asked to submit my query and leave a message, and someone would contact me via email.
They responded to me within 24 hours, which is relatively quick, but it's not the live chat service that I was expecting. That said, they were helpful when I asked how my purchase would appear on my bank statement. And for anyone that's wondering, it shows up as MyLab Box, but it doesn't say what kit you've ordered.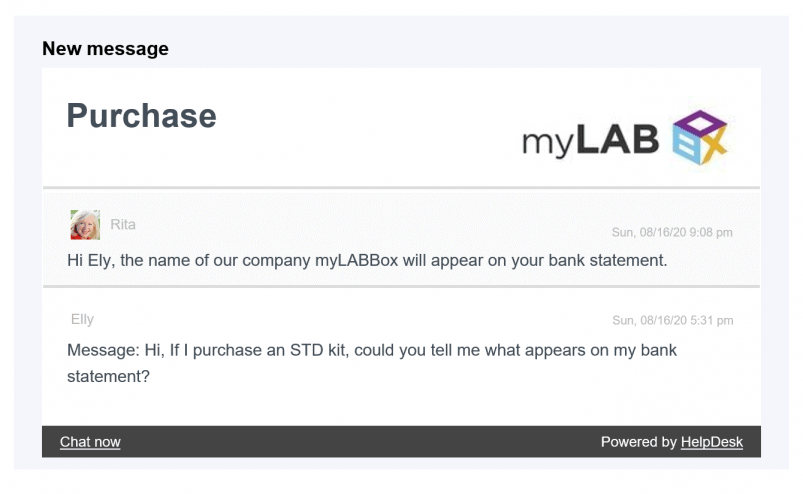 There are also some issues with the phone line. There's no queue or waiting times, but instead, you leave a message and request a callback. When I tried it, I never got a callback. That's frustrating to say the least, especially if I had an urgent query.
If you've purchased the HIV test, you've something else to bear in mind. The in-pack leaflet says you can call support any time to discuss your results. Not true. The lines are only available during EST business hours, and you're told to leave a message outside of these hours. And that's not really the confidentiality you're looking for.
An Accurate At-Home Alternative
When it comes to finding a reliable at-home STD test that promises privacy and accuracy, MyLab Box delivers. Its kits are as accurate as those you'd take in the doctor's office, but you can save yourself the awkward trip.
Is it worth your money? In my opinion, yes.
The bundle options are so diverse you're bound to find one in your budget and customized to you. While the individual kits are expensive, MyLab Box makes up for it with free discreet shipping, prescriptions, and follow-up support.
It's not perfect, though. The support system isn't as good as it makes out, and to be honest, this is its biggest downfall. Then there's the issue of vaginal swabs and instructions in the male-specific STD kits.
But if you're looking for an easy, quick solution to STD testing, it's a great alternative to the doctor's office. In just 2-5 days, you have an accurate result that you can rely on, and only you know about.
FAQs
Where does MyLab Box ship to?
Currently, MyLab Box only ships to the US. If you're outside of the US and after an at-home STD test, a better option may be LetsGetChecked.
Does MyLab Box accept health insurance?
No. MyLab Box accepts various payment methods including HSA and FSA cards, but you can't use health insurance. The plus side? It means your results aren't shared with your insurance provider so it helps you stay anonymous.
Is MyLab Box FDA-approved?
Yes. All of MyLab Box's kits are either approved by the FDA or a MyLab Box lab affiliate. This means every test offers you the same level of accuracy as you'd get in the doctor's office.
How accurate are MyLab Box results?
MyLab Box operates from certified CAP and CLIA labs to ensure your test results are as accurate as those used by doctors. In fact, MyLab Box assures 99% accuracy of results.
Can I get a false positive with MyLab Box?
A false positive result isn't impossible, even with 99% accuracy. It's unlikely, but if it does happen, contact your physician to discuss treatment and possibly take another test.
Likewise, you can also get false negatives. These are more common, especially if you take an STD test outside of the testing period. Most STDs show up in a few days, but some can take weeks before they're picked up on a test.
How can I get a refund from MyLab Box?
You can only get a refund from MyLab Box if you cancel your order before it's shipped. At MyLab Box's discretion, you may receive refunds for other purposes, though you're still charged the cost of shipping. You can't return any opened kits.
How long does it take for a doctor to call you from MyLab Box?
It takes 24-72 hours for a MyLab Box physician to call you to discuss your positive results. Remember, you only get this service if you test positive, but it's free.