Paloma Health Overview: Your Personalized Thyroid Management Platform
Paloma Health specializes in diagnosing and treating hypothyroidism through an all-inclusive at-home test. It's only been around since 2019, but since then, it's quickly grown in popularity. Why? That's what I wanted to find out.
One of the things that makes Paloma Health stand out is that it offers a true end-to-end solution. Not only can you test your thyroid function, but you also get access to consultancy services, medication, and ongoing testing. But is it really worth it?
Are the tests accurate? Do they screen for all thyroid biomarkers? How good is the long-term health support? And does Paloma Health offer good value for money or are you wasting your time?
I've answered all of these questions (and many more) for you in this Paloma Health review. From the test kit instructions to your thyroid management plan, I've researched it all. See what I found out.
How Paloma Health Works: Stop Guessing, Start Assessing
Paloma Health stands out for its comprehensive at-home thyroid test kit, which assesses key thyroid indicators like TSH, FT3, FT4, and TPO antibodies. The test kit is delivered to your home within three days at no extra cost. The kit comes well-equipped, featuring clear instructions, lancets for blood sampling, a return bag, alcohol swabs, and bandaids. It also includes a thyroid-shaped lollipop as a unique added touch.
It only requires a quick finger-prick blood test, and you need to add five spots to the card provided in the kit. You're done in less than five minutes.
The instructions are clear and easy to follow, and even come with added information to make sure you get the best sample possible. It tells you to hydrate beforehand, and try things like rubbing your forearm to your fingers to stimulate blood flow.
There are two lancets included in your kit in case you have trouble gathering your sample on the first go, which is a nice touch.
Once you're finished, all you need to do is fold your sample card, add your name and date of collection, and put it into the returns bag. This is already pre-paid, so there are no extra charges for returning your sample.
Paloma Health's thyroid blood test is only available in the US for now, but that's not unusual. Unfortunately, it's also not available in every state.
If you live in New York, New Jersey, or Rhode Island, you'll have to wait a while. Paloma Health says it's only temporarily unavailable, though, so there's hope yet.
5 Standout Features of Paloma Health
4 Thyroid Markers in One Test
Typically, thyroid tests, including those from a doctor, focus primarily on checking thyroid-stimulating hormone (TSH) levels. However, this approach might not fully represent your thyroid's functioning. Paloma Health offers a more thorough testing option.
In addition to TSH, the thyroid blood test from Paloma Health also measures free triiodothyronine (FT3) and free thyroxine (FT4), which are hormones released into the bloodstream by your thyroid. Abnormal levels of these hormones can be indicative of conditions like hypothyroidism or hyperthyroidism.
The thyroid test also screens for TPO antibodies in your blood. The presence of these antibodies might mean that you have an autoimmune disease, such as Hashmito's disease.
The only other common biomarker missing from Paloma Health's test is Reverse T3. This is a hormone that stops you producing any FT3. So, rather than having high or low levels, you don't have any FT3 at all. This is quite an important factor in the function of your thyroid, so it'd be worth buying a test that does include it. But Paloma Health's support said they're adding it soon.
Can Diagnose Hypothyroidism
Paloma Health specializes in hypothyroidism, which means your thyroid is underactive and not producing enough hormones. And, unlike most at-home thyroid tests that simply indicate a problem, Paloma Health can actually diagnose hypothyroidism.
If you have a positive diagnosis, you can then access on-going support from Paloma Health, including consultancy and medical supplements, to help you manage your condition.
You get a fully personalized health plan with advice on medication, exercise, nutrition, and wellbeing to help you improve your thyroid condition holistically.
Paloma Health also has an online symptoms checker to help you determine how likely it is that you have hypothyroidism before you even take the test.
Nutrition & Medical Consultancy
One of the best things about Paloma Health is the end-to-end support you get alongside your test. Following your results, you have access to medical and nutritional consultancy services to guide you in managing your thyroid effectively.
Once you have your results, you're assigned a doctor and a nutritionist who can talk you through your results during 30-minute video consultations. They're able to evaluate your lifestyle and deliver personalized goals to alleviate your thyroid symptoms. This covers everything from sleep, stress, weight management, optimal nutrition, and medical supplements.
You can take the online 60-second quiz to find the right doctor for you. It asks a series of questions to determine which of the available thyroid doctors from Paloma Health is your best fit.
Your physicians and nutritionists are your assigned thyroid specialists for life, so they stay with you for future visits and consultations. They actually contact and work alongside your primary physician to coordinate your care.
Thyroid Supplement Delivery
As part of Paloma Health's holistic approach to thyroid management, it offers thyroid dietary supplement subscriptions. You can purchase these vitamins once or sign up to a delivery every month (and get a 10% discount, too).
These supplements contain 10 vitamins known to improve thyroid function, including magnesium, ashwagandha, L-tyrosine, and selenium. By taking these supplements, you can improve your thyroid hormone production, calm inflammation, and target your hypothyroid symptoms to minimize effects.
Paloma Health's thyroid supplements are approved by qualified physicians to target underlying autoimmunity problems and improve your health. And best of all, the ingredients are completely natural, vegan, and iodine-free.
12-Week Hashmito's Plan
If you're one of the many diagnosed with hypothyroidism and find yourself at-risk of Hashmito's disease, then Paloma Health has a mobile app designed specifically for you.
The free mobile app provides you with a 12-week program to alleviate your Hashmito's symptoms, aligned to your goals.
It comes with hundreds of recipes and online resources, as well as weekly interactive sessions to help you learn more about your condition and managing symptoms. These range from nutrition to sleep and stress management, and change depending on what you select as your main goal.
You even get access to a symptoms tracker to note how you're feeling and when, and track changes over time. Plus, there are personalized tasks set up for you everyday to keep you accountable and tick off as you go.
Understanding Your Paloma Health Results
From your sample arriving in the lab, it takes one week to get your results. That's relatively fast, but not as quick as many other services like LetsGetChecked, who can turn your results around in just a couple of days.
All of Paloma Health's labs are CLIA certified and have US physicians available to review your sample, which is great news for the reliability and accuracy of your results. As soon as your results are ready, you get an email notification to let you know.
You can log on to the online dashboard to access your results. They're highly detailed and easy to understand, showing you all the different biomarkers tested for with your levels next to them.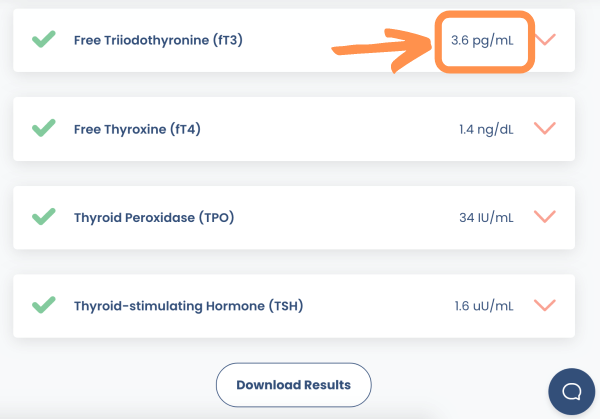 If you click on any of the individual biomarkers, it shows you more detail about your levels and where they sit within the low, normal, or high ranges.
I also like that it shows you what the normal ranges are for each biomarker, so you know what to aim for if you're suffering with high or low levels.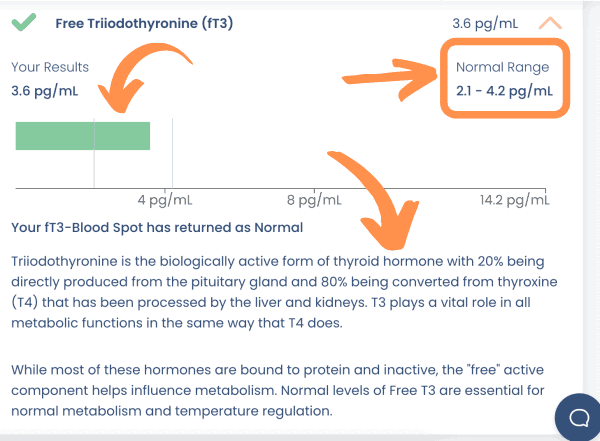 You can also learn more about each biomarker, what they're for, and what they mean for your thyroid function. It's easy to download your results to take to your doctor.
You're assigned a physician through Paloma Health, who already has access to your results. It's important to note, though, only you and the physician can view your results, so they are kept private.
With your physician consultation, you can develop a personalized treatment plan to help you improve your thyroid function. Your doctor also creates a prescription for you which they send directly to your chosen pharmacy so you can pick it up easily.
After your consultation, you get written notes from your doctor summarizing everything you talked about, which is good for your own records, but also perfect if you plan on visiting your primary physician to discuss your thyroid function.
Paloma Health Pricing: It's Not What it Seems
Paloma Health's at-home thyroid test is very well priced. And it's actually exactly the same price as many other leading providers like Everlywell too.
For less than $100, you get a fully comprehensive test that screens for TSH, FT3, FT4, and TPO. Even with LetsGetChecked, you'd have to pay more to get TPO testing.
That fee includes shipping, which is free both ways. You get a prepaid envelope in your test kit, so there are no extra costs for returning your kit. The cost also includes processing, but it's not all what it seems.
Paloma Health charges extra for all of its support channels, which means costs soon add up. For example, the 30-minute consultation with your assigned doctor sets you back $99. The phone call with a nutritionist costs you $75, too. You have to pay the fee each time you access these services.
If you're looking for thyroid supplements, Paloma Health also charges you for these. As a one-off, the supplements cost $30. Or, you can sign up for monthly deliveries and save 10%. But either way, they're still an extra fee.
Despite all of the added charges, though, Paloma Health still offers great value for money. It's just a shame you only really get your test included in your fee. It accepts HSA and FSA cards, so you can cut costs that way.
It's also one of the few testing companies that accepts insurance (from certain providers). You will have to check your policy's terms and conditions, and it's unlikely that the consultations are covered, but your test might be.
Paloma Health Customer Support: Ongoing, But There's A Catch
Paloma Health offers both in-person and online consultations on an ongoing basis, for as long as you want and need it. That includes from doctors and nutritionists who are able to guide you in managing your thyroid.
Unfortunately, I did find out that the follow-up care after your results is only available in certain states right now. You can only access consultations if you live in California, Texas, Arizona, Illinois, Michigan, Virginia, Ohio, Pennsylvania, Florida, and Colorado.
Paloma Health doesn't offer any support for hyperthyroidism, either. While the tests will identify hyperthyroidism, you need to take your results to your own doctor to access further support that way. If you need support no matter what, you could check out LetsGetChecked who offers a free phone call regardless of your diagnosis.
Aside from consultations, Paloma Health offers an email and live chat service. I tried the live chat several times, and it was always available. Each advisor I spoke to was helpful and quick to respond.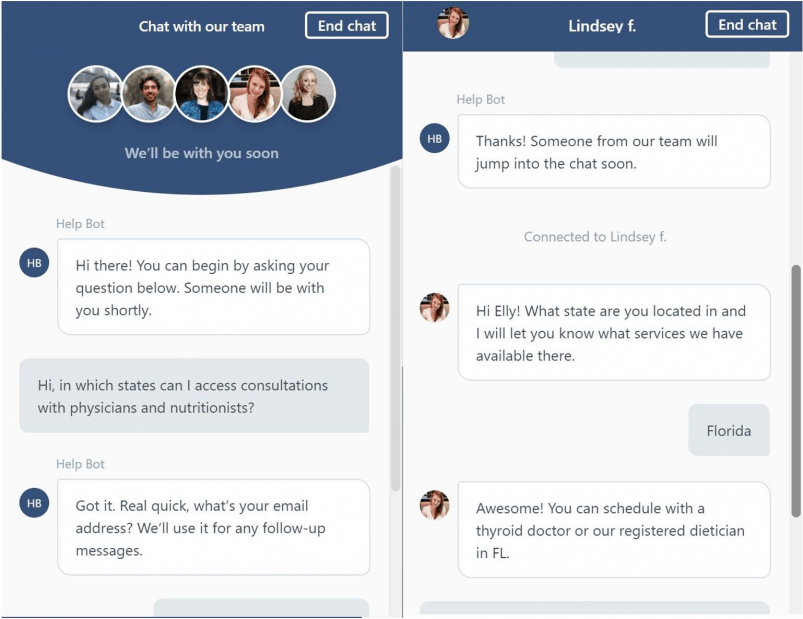 I also tested out the email and was really impressed with the service I received. Paloma Health's website says email responses take a few hours, and they weren't lying. It only took three hours for me to get a reply. We were able to email back and forth a few times, too.
There's also a huge bank of resources, how-to-guides, videos, and blogs on the website, which are all free. When you take a test, you even get access to the private community where you can connect with other people and share tips – they call this the Thyroid Care Club.
A Great Service, But Check the T&Cs
For an easy, at-home thyroid testing solution Paloma Health is a reliable choice. Its quick blood test screens for common biomarkers, it gives you detailed, reliable results, and it's well priced.
It has one of the best support services I've seen. But it does come at a cost, and fees can soon add up if you're accessing 30 minute consultations every month, plus supplements, and more tests further down the line.
As with any new provider, there are always areas for improvement. Once it adds reverse T3 to its biomarker list and rolls out availability in more states, i'll score it more highly. And when it considers people with an overactive thyroid, rather than just hypothyroidism.
Overall, though, it's a great service. And if you can afford the ongoing support, you'll be well on your way to managing your thyroid effectively and improving your health.
Get Started With Paloma Health Today!
FAQs
Is Paloma Health's thyroid test accurate?
Paloma Health results are very accurate. They operate CLIA and CAP certified labs, which is the same as the lab that your own doctor would use.
Your results are also reviewed by qualified physicians before they are returned to you to ensure your biomarker levels are accurate. But remember that you can't ever get tests that are 100% accurate.
What do you get in your Paloma Health thyroid kit?
Your Paloma Health kit comes with all the equipment needed to take your sample. This includes two lancets to draw blood from your finger, bandaids, and alcohol wipes.
You also have detailed instructions and information on how the test works, as well as a prepaid returns envelope to send back your sample. And for a bit of fun, there's a thyroid-shaped lollipop, too.
Does Paloma Health accept insurance?
Paloma Health is working with some major insurance companies, which means you might be able to use your insurance to pay for your test.
It's unlikely that this will extend to consultancy support, but it may cover the cost of your blood kit. Always check your policy's terms and conditions first.
You can also use your HSA and FSA cards to pay for your test, which is a good way of keeping down costs.
Can Paloma Health diagnose hypothyroidism?
Yes. Paloma Health is one of the few at-home tests that can actually diagnose hypothyroidism.
Most tests show you your biomarker levels and indicate that you might have hypothyroidism, but don't actually diagnose you. Paloma Health tells you if you have hypothyroidism.
For hyperthyroidism, though, it's the same as other tests. Your test might show a problem, but you'll be encouraged to seek help and a diagnosis from your doctor instead.
How often should I take a thyroid test?
You should take tests again whenever you feel the time is right. If your symptoms worsen, you want to check the effectiveness of your medication, or you just want to see how you're managing your biomarker levels, then take another test.
Paloma Health also advises that you should take a test every six months, if you haven't changed your medication. If you've altered your treatment, consider taking a test after eight weeks to assess your body's response.