The DNA Testing Company That Cares About You
EasyDNA distinguishes itself by providing more than mere test results. Several of their tests come with consultations or follow-up sessions, and they have physical offices for scheduled appointments. Moreover, the process for submitting samples is straightforward. To assess the quality of their products against their service, and to evaluate their value for money, I've carried out a thorough analysis. By the conclusion of this review, you will be able to determine if EasyDNA's Ancestry, Health and Wellness, or Diet and Fitness DNA tests are a worthwhile investment.
Taking the Tests
For most tests, you'll be asked to provide a cheek-swab sample. Yet, some tests, such as the intolerances and gut microbiome tests, need a hair or stool sample instead.
EasyDNA doesn't offer the option to upload raw DNA data from other testing services. Also, the time it takes to process your results varies depending on the test, ranging from two days up to six weeks.

Sometimes, it can be difficult to try to facilitate the shipping of your DNA sample. So, true to its name, EasyDNA offers three easy options:
EasyDNA's sample collection kit
DIY DNA kit
Sample collection service
EasyDNA's Sample Collection Kit
In this case, EasyDNA ships out the sample collection kit in discreet packaging without any company label. The same is true of the return envelope, so you are assured complete anonymity.
The collection process will vary depending on the sample requirement. Just follow the attached instructions and put it in the return envelope along with your filled-out consent form. Unfortunately, the return envelope is not prepaid.
DIY DNA Kit
This is something I've not seen many (if any) other DNA testing companies offer. As an alternative to sending you its own collection kit, EasyDNA can provide you with step-by-step instructions for creating your own DNA sampling kit.
Again, the online instructions will vary according to the sample required. That said, you should be able to gather all of the needed supplies from your local pharmacy. After that, you just need to send the sample back, labeled with your unique reference code.
Sample Collection Services
If you're not confident about creating your own kit, or even using EasyDNA's easy-to-use kit, the good news is that the website FAQs allude to two sample collection services:
Mobile samplers who come to your home or workplace to collect the sample
Partner clinics which organize the collection of your sample
The not-so-good news is that the link to these sample collection services led me to a non-existing web page.
EasyDNA Products and Services
EasyDNA offers four different Ancestry tests: GPS Origins, Ancestral Origins, Maternal Lineage, and Paternal Lineage. Let's look at each one in turn.
GPS Origins™ Ancestry Test
The Geographic Population Structure (GPS) test is the most advanced ancestry test offered by EasyDNA. It pinpoints where your ancestors originated from, down to the city or island. This is more detail than you would get from most competitors.
That said, the test only analyzes around a 1,000 years back, compared with several millennia for less precise tests.
Four to six weeks after processing your results, you'll receive an 18-page report packed full of fascinating information – but it's not too pretty. After five pages of introduction to the human story, you see results that look like this: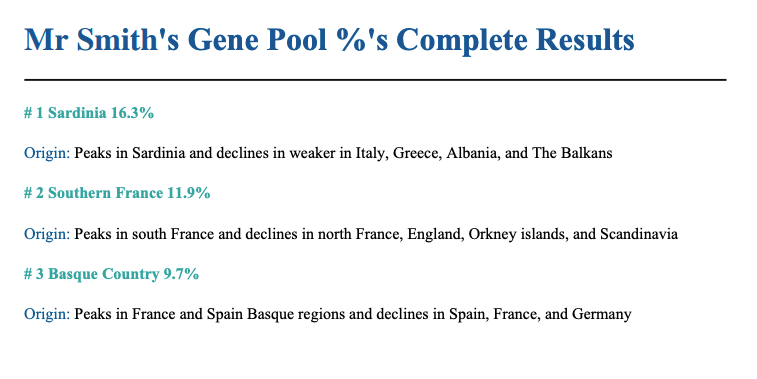 As well as telling a detailed story about your three highest percentage heritage matches, the report also illustrates (and then explains) your ancestors' migration story: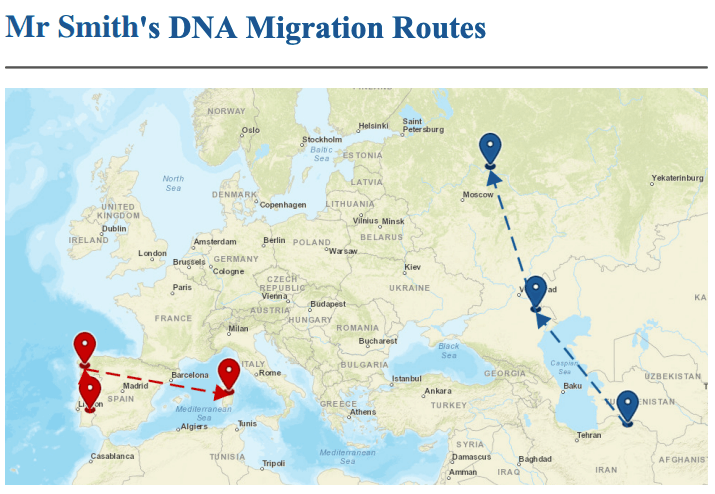 Top Features:
Detailed ethnic breakdown
Precise ancestral locations, down to the city/island
Historical facts to provide further context
Ancestral Origins™ Ancestry Test
It takes EasyDNA two weeks to process your sample. In addition to your ten-page report, you'll receive a 17-inch x 10.6-inch map printed on glossy photographic paper, and personalized with the text "Exclusively prepared for [you name]".
This framable map includes three sections:
Population Matches
Native Region Matches
Strength Indicators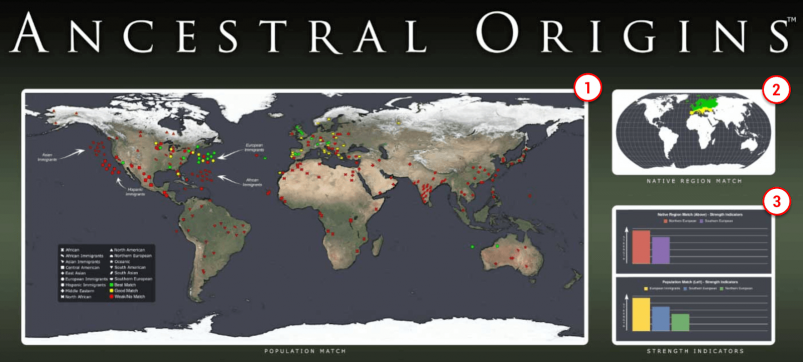 The Population Matches show you how closely your DNA profile matches with people from a particular area, color-coded to indicate the strength of the match.
The Native Region Matches indicate your deep ancestral roots, but (unlike with Population Matches) with North America not taken into account.
The Strength Indicators section relates the Population Matches to the Native Region Matches.
For an additional charge, you can get a pie chart certificate and report that breaks down your ethnic makeup:

To top it off, you can schedule a 15-minute telephone consultation to discuss your results, but it's probably the most expensive 15 minutes you'll ever pay for.
Top Features
A poster-sized map of your origins
Simple yet informative information
Optional ethnic breakdown (at extra cost)
Optional telephone consultation (at extra cost)
Maternal Lineage Test
Also called a mitochondrial DNA (mtDNA) test, the Maternal Lineage test helps you trace your mother's side of the family.
Since mitochondrial DNA mutates (changes) very slowly down the generations, it's easy for scientists to identify major groups of people (called haplogroups) that share the same mutations. These haplogroups can be pinpointed to specific locations around the world.
It takes about four to five weeks to get your results after the lab receives your sample.
Top Features
A detailed haplogroup description in your report
A personalized map of your maternal ancestors' journeys
Interesting facts about famous people in your haplogroup
Paternal Lineage Test
The Y-DNA paternal lineage test is the father's family line equivalent of the mtDNA test. Y-DNA is passed only from fathers to sons, so females can't take the test and must ask a close male relative (e.g., father or brother) to take it instead.
As with the maternal test, your haplogroup assignment(s) will tell you where your ancient ancestors came from.
Males can take a duo lineage test that combines the mtDNA and Y-DNA tests to trace both sides of their family. You'll receive your results in four to five weeks.
Top Features
A detailed haplogroup description in your report
A personalized map of your paternal ancestors' journeys
Interesting facts about famous people in your haplogroup
How EasyDNA Compares to Other Companies
When it comes to ancestry services, EasyDNA, AncestryDNA, and LivingDNA offer different features and options.
EasyDNA provides global coverage of ancestral regions and offers a basic family tree-building tool. AncestryDNA boasts extensive global coverage with a large database of genetic matches and a comprehensive family tree-building platform.
LivingDNA focuses on global coverage with a particular emphasis on British and Irish populations, providing detailed ethnicity estimates and sub-regional breakdowns.
While EasyDNA offers raw DNA data access, AncestryDNA provides a wealth of research tools and historical records. All three companies prioritize user privacy and offer various pricing options. It's important to review their specific services and features to determine which one aligns best with your ancestry exploration goals.
| Features | EasyDNA | AncestryDNA | LivingDNA |
| --- | --- | --- | --- |
| Ancestral Regions | Offers global coverage with a wide range of regions | Offers extensive global coverage with 1,000+ regions | Offers global coverage with 80 regions |
| Ethnicity Estimate | Provides a breakdown of ethnicity percentages based on genetic markers | Provides a detailed breakdown of ethnicity estimates | Provides detailed ethnicity estimates and sub-regional breakdowns |
| Genetic Matches | Offers the ability to connect and match with genetic relatives in the database | Provides a large database of potential genetic matches for family connections | Offers the ability to connect with genetic relatives in the database |
| Family Tree Builder | Provides basic family tree-building tools | Provides a comprehensive family tree-building platform with extensive features | Offers a family tree-building tool with the ability to link genetic information |
| DNA Raw Data | Provides access to raw DNA data for further analysis | Offers access to raw DNA data for users to explore and analyze | Provides access to raw DNA data for users to download and analyze |
| Research Tools | Offers limited research tools and resources | Provides extensive research tools, historical records, and documents for genealogical research | Offers research tools and access to historical records for genealogical research |
| Privacy | Provides data privacy and protection policies | Ensures user privacy and security with robust data protection measures | Focuses on user privacy and data security with strict policies |
| Pricing | Offers different testing packages at varying price points | Offers various testing packages with different pricing options | Offers different testing packages with flexible pricing options |
| Testing Method | Uses modern autosomal DNA testing technology | Uses autosomal DNA testing technology | Utilizes autosomal DNA testing with optional Y-DNA and mtDNA testing |
| Database Size | Smaller database size compared to AncestryDNA | Largest DNA database with millions of users | Growing database size with a focus on British and Irish populations |
Is EasyDNA Worth the High Prices?
EasyDNA's many different tests differ in price by a factor of ten – from less than $100 to more than $1,000. (The most expensive tests are prenatal, which haven't been covered in this review.)
In general, the tests are more expensive than competitors', but they may well be worth it for the detailed reporting and exceptional aftercare. Most tests – especially the health tests – allow you to upgrade for additional perks and features.
Payment options include credit/debit cards, PayPal, and even in person at one of the company's worldwide offices.


Test Your Ancestry at EasyDNA!
Advanced Ancestry Tests from just
169,00 US$
!
EasyDNA have a number of
Advanced Ancestry DNA tests available starting from the low price of just

169,00 US$
. Perfect for discovering your ethnic and geographical origins.
A Generic Email Response, but Top-Notch Telephone Support
EasyDNA has physical offices in 25 countries all around the world, which you can visit to take a test or talk to someone in person. Alternatively, you can call the company, initiate a live chat, or send an email.
I emailed the company to ask about uploading raw DNA data and using the sample collection services (the details of which were missing from the website). I received a generic reply within one business day, which didn't answer my specific questions: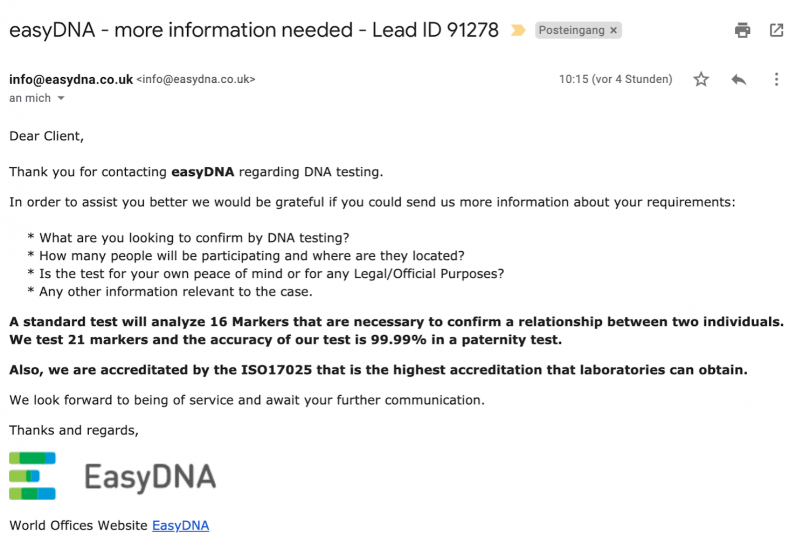 This disappointing response at least provided me with a perfect opportunity to test the telephone support, and I'm happy to report that the support agent I spoke to was extremely knowledgeable and courteous.
In case you're wondering: yes, you can still have your sample collected by a professional, but this is outsourced to another company that charges extra. It's only really recommended for blood tests.
A DNA Testing Company That's Too Easy to Overlook
EasyDNA is not as well-known as many DNA testing companies, such as AncestryDNA or 23andMe, which is somewhat surprising since it has worldwide offices and has been in business for more than ten years.
What really sets EasyDNA apart from its competitors is the wide variety of tests it offers. Another big bonus is how much post-care it offers to customers after the sale. If you're looking for really detailed or specific information, EasyDNA should definitely be in your consideration set.
However, there are still some limitations that could direct you to a competitor. For example, if you want to connect to living relatives or explore your family's genealogy, you'd be better off with MyHeritage. Or, if you have a very specific health or diet question – like whether you could be lactose intolerant – you could save a lot of money by ordering a single test from Orig3n, for example.
FAQ
How accurate is EasyDNA?
EasyDNA promises 99% accuracy in their tests. All the laboratories they work with follow ISO 17025 standards, the most important standard for DNA testing laboratories. This means that they follow internationally defined laboratory requirements regarding staff, equipment, processes, and more.
How does EasyDNA compare to competitors? Please mention other vendors
In regards to ancestry, EasyDNA can't keep up with competition like MyHeritage, Living DNA, and AncestryDNA. EasyDNA doesn't feature DNA matches or family tree building. When it comes to health & wellness, EasyDNA doesn't offer as many disease reports as 23andMe or Helix. However, EasyDNA stands out with its cheap genetic counseling service and its broad test offering.
What different test categories does EasyDNA offer? (How about for pets?)
Their testing range is extremely wide. They test everything from paternity tests to drug tests. EasyDNA even offers bird tests! Whatever you want tested, EasyDNA most likely does it.
How much does an EasyDNA test cost? (Any discounts?)
They offer over 30 different tests. The prices vary. Most range from $120 – $300. There are tests, like the non-invasive prenatal paternal test, that cost up to $1295.
Who should consider taking an EasyDNA test?
Anyone who wants to take a DNA test that is not about ancestry. People looking for an ancestry test are better off with competitors like MyHeritage or Living DNA. EasyDNA lacks features like a family tree builder and a relative finder, and they have much fewer DNA samples to match yours against.